Featured Reviews
By REBECCA
Beauty In A Box
This beautiful handcrafted box has goodies inside that are absolutely fun for the whole family!! Once you learn how to defeat the puzzle, there are directions inside on how to put them back together. Excellent woodworking! #Novica
Beautiful Sodoku Game
I bought this game for my husband as he is an avid player of Sodoku. The gift arrived yesterday, beautifully wrapped, and totally surprised and made my husband very happy. This isn?t just a game, it?s a work of art.
By Laura
Absolutely gorgeous!
We were so delighted to receive this piece! It has such a unique look to it and the pink is so dreamy. We cannot wait to display it. If they had a bigger one in this same style, I'd probably get it too!
Popular Games & Fun Gifts
Related Articles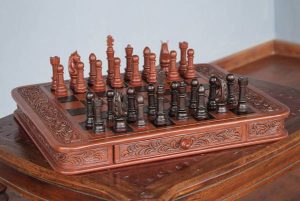 The longest chess game played was back in 1989 - a brutal 20 hours and 15 minutes. The most grueling part... read more