Featured Reviews
By Monica
Superb Artistry
This is pure art! The various woods and metals comprising the design are beautifully integrated to enhance the overall subject.
By George
WONDEROUS MASK FROM AFRICA
I was very pleasantly surprised by this magnificent creation, much, much better than anticipated, The Ghana artist Emmanuel Nyadedzor is a truly gifted and accomplished artisan, who?s work is amazingly beautiful.
By Zenobia
Excellent Addition to our decor
The mask is perfectly crafted, looks expensive and amazing. Very glad we made the purchase and will be looking for other items by this artist.
Related Articles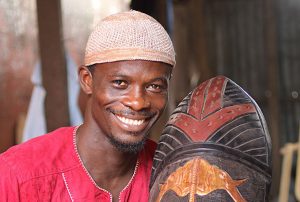 "When you dream, dream big…" that was the saying on my mind as I listened to Abdul Aziz Mohamadu talking about... read more
Ghanaian Masks
Since the early Paleolithic times, masks have been used throughout Africa as a symbol for the ideals and principles of the cultures which created them. The NOVICA collection of Ghanaian Masks gives artisans, such as Wilson Aboagye, the ability to share those morals with the world. Along with providing insight to the morals of the society, masks have long been used for spiritual and ceremonial use. Ghana tribes, in particular, are split into seven groups. Each of these tribes has unique stories and ethics which accompany their masks. The Ghanaian Mask collection displays work from the largest tribe of Akan to the smaller tribes of Ga-Adangbe. The masks are created through masterful work of materials such as leather, metals, fabrics and woods. The sturdiness and craftsmanship which goes into these masks provide them the ability to withstand tough conditions. Through the NOVICA collection of Ghanaian masks, customers are able to appreciate the long-standing tradition masks bring to the African culture. We hope you enjoy the collection!